Aircommand Ibis MK 3 3.2Kw Low Profile Reverse Cycle Roof Top Air Conditioner
Last 1 in stock as now discontinued!
$1,779.00
RRP $2,359.01
SAVE $580.01 (25%)

RELIABLE PERFORMANCE | LOW PROFILE | ENERGY EFFICIENT
Aircommand Reverse Cycle Caravan Roof Top Air Conditioner - Ibis 3 is now whisper quiet whilst operating on the high fan speed, at least 8dB quieter than the Ibis 2! The cooling and heating capacities have been increased too.
IMPROVED WINNING FORMULA
The low-profile Dometic Aircommand Ibis 3 represents an upgrade to the very popular Ibis model. With many outstanding features including an increased cooling capacity to 3.1kw and, more significantly, a 50 % increase in actual air flow for a faster, more uniform temperature control in your vehicle. While the earlier Ibis is renowned for its low operating noise, the Ibis 3's noise has been further reduced by 8 dB(A) on high fan. With reverse cycle cooling and heating, the Ibis 3 offers year-round comfort. A self-adjusting connection duct facilitates an easy "one-click" installation on a range of roof thicknesses. Convenience is boosted further by the remote control operation. With powerful air flow in four directions, the Ibis 3 achieves a comfortable climate with speed and efficiency.
Features:
the lowest profile roof top air conditioner which reduces towing drag and the clearance required under carports and garages
Increase capacity by at least 10%, now 3.1KW cooling and 2.7Kw heating
Quiet operation, at least 8dbB quieter on high fan speed
Massive increase in air flow
Ultra thin stylish four-way independently closing inside plenum with easily removable filter for easy cleaning
Easier to fit with the revolutionary weather collar improving the seal on the roof while reducing amount of sealant required
Self-adjusting connecting duct providing a simple one-click system to suit roof thickness of 25-85mm, no cutting of ducts required
Multi function allows the Ibis to be set up using a timing schedule, climate control and dehumidifier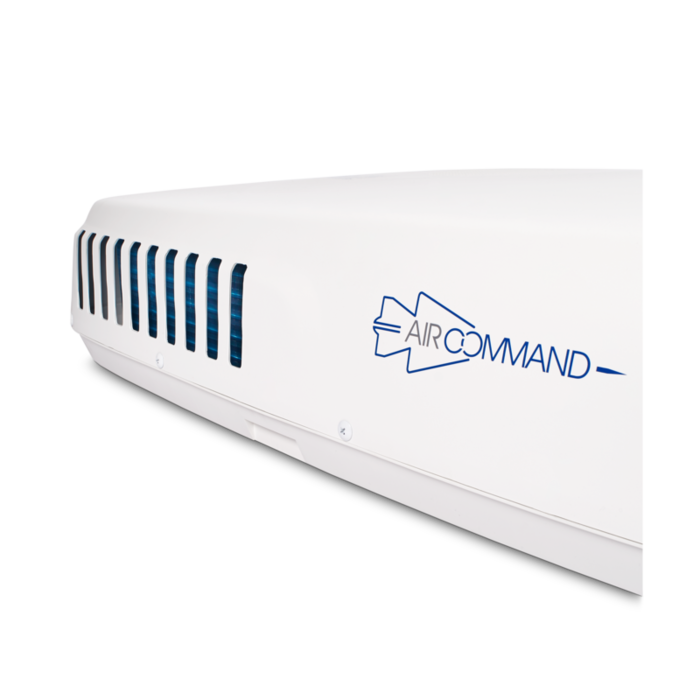 LOW PROFILE AIR CONDITIONER
This low profile roof top air conditioner has been designed for the Australian caravan and RV industry and its harsh conditions. The ultra thin design reduces towing drag and the clearance required under carports and garages. It is even less vulnerable to damage from overhanging tree branches and other obstacles. The air conditioner is quiet and offers high cooling performance - and what's more? It can also be operated by remote control or via electronic touchpad controls.
ASSISTING NASA WITH AIR CONDITIONING EXPERTISE
In 2011, NASA was on the lookout for an air conditioning system to install in their lunar electric rover. They decided they needed expert help and consulted numerous suppliers. Finally, after a rigorous selection process, the space agency chose Dometic. After extensive trials in Arizona, where the system had to keep scientists and their equipment cool and dry in extreme heat and high-dust levels, Dometic's technology was approved for extra-terrestrial duty. Thanks to our talented engineers and their hard work and dedication in developing innovative solutions to meet NASA's rigorous technical specifications and safety requirements for this unusual test vehicle, Dometic.
COOL THAT STAYS LOW ON TOP
The Dometic Ibis 3 is one of the most popular air conditioners on the market and has proven its reliability and performance, even in the harshest climates. The low-profile of the Ibis 3 reduces towing drag and the clearance required under carports and garages, meaning less risk of damage from overhanging branches and obstacles. With highly efficient reverse cycle cooling and heating capacity, including electronic defrost for operation in low temperatures. The reverse cycle heat pump gives unmatched efficiency in heating mode and is usually the most economical form of heating. A quiet operating noise allows users to maintain a comfortable climate without being disturbed. Advanced electronic controls offer remote operation, a dehumidifying function, and an energy-saving sleep function. They also allow the unit to turn on automatically at any time.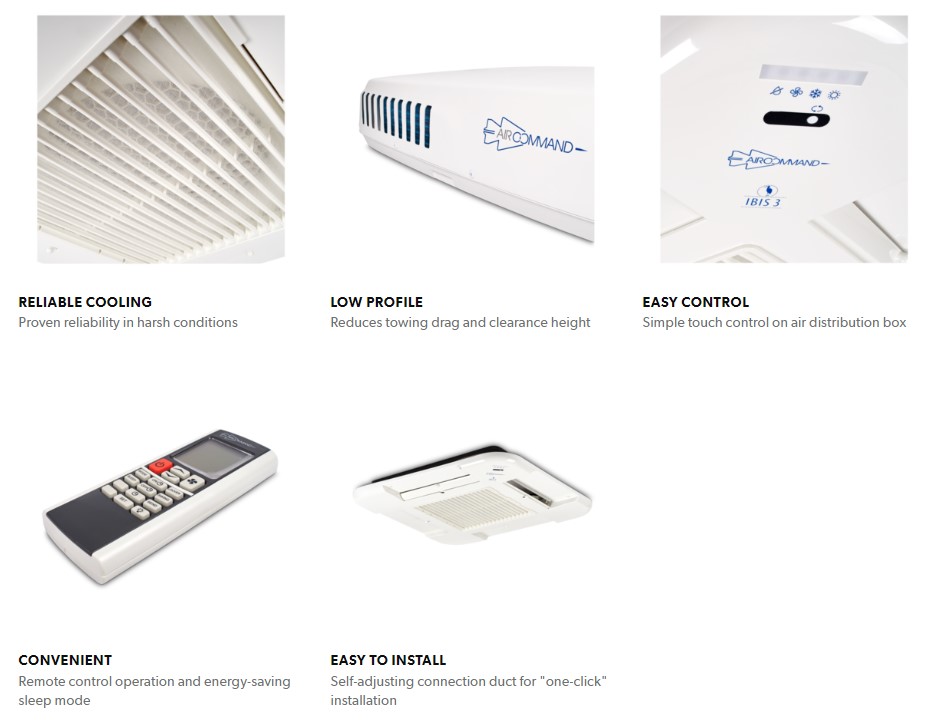 (DOM-IBIS3-ADB-KIT)
Electrical Rating (single phase): 240V, 50Hz
Nominal Cooling Capacity: 3.1Kw
Nominal Heating Capacity: 2.7Kw
Max Rated Current-Cooling: 5.8A
Max Rated Current-Heating: 5.5A
Roof Opening (mm): 360 x 360
Max Air Delivery: 180Lt/s
Installed Weight: 45Kg
Overall Height: 222mm
Overall Width: 848mm
Overall Length: 1120mm
Plenum Height: 32mm
Plenum Width: 535mm
Plenum Length: 535mm
Be The First To Review This Product!
Help other Caravan Parts users shop smarter by writing reviews for products you have purchased.