Caravan D-Shackle Guide

D-Shackles for Caravans
D-shackles or bow-shackles are the final connection between your caravan's safety chains and the vehicle.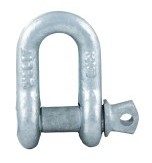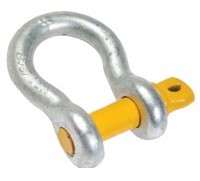 D-Shackle on the left.
Bow Shackle on the right.

CaravanParts.com.au Summary
There is NO legal requirement to have certified or stamped D shackles / bow shackles, but it is a bloody good idea to do so.
Safety chains MUST be appropriately rated, and be stamped accordingly. They must be matched to the weight of your van.
You are meant to cross the safety-chains over to prevent coupling hitting ground in case of detachment, but it really is up to you.
Safety chains require replacement after a few years. They tend to get worn by dragging on the road, or rubbing on weight distribution bars. They should be welded on to the drawbar (for most caravans), by welding at least 50% of one of the links.

References on Caravan Shackles
(From Aug 2014)
Vehicle Standards can advise that under the current legislation, while the safety chains that are used to connect a trailer to a towing vehicle are required to comply with "Australian Standard AS 4177.4 - Caravan and light trailer towing components", there is no legal requirement for shackles to comply with a particular Australian Standard.
However, in the interest of road safety, the Department of Transport and Main Roads strongly recommends that vehicle operators use shackles that are either certified to AS 2741-2002 Shackles or are identifiable as having a suitable design for the trailer and towing vehicle combination.
These requirements are not new and have been consistent across most States and Territories for many years.
Safety Chains for Medium and Heavy Trailers above 2.5 tonnes GTM
(Department of Transport Information Bulletin)

Safety chains must be supplied and fitted to comply with the following requirements:
Type of Chain

Manufactured from alloy steel of 800 MPa minimum breaking stress to conform with mechanical properties of Grade T chain as specified in Australian standard 2321-1979.
Required Number and Size of Chains

Two separate chains must be used.
The size of each chain used on the trailer must correspond with the maximum gross mass of the trailer as indicated in the table below.
The use of chains arger than specified should be avoided to minimise the shock loading on attachment fitting in the event of coupling failure.
Note: Left/right table scroll in mobile view
| Trailer ATM (kg) | Chain Size Classification (kg) AS 4177.4-2004 | Chain min. Proof Load (KN/t) (Strength) | D Shackle Size Classification (AS2741-2002) | D Shackle Working Load Limit (WLL in kg) (Strength) |
| --- | --- | --- | --- | --- |
| 1-1000 | 1000 | 4.9 / 0.49 | 6 mm, 8 mm | 500, 750 |
| 1001-1600 | 1600 | 7.9 / 0.8 | 10 mm | 1000 |
| 1601-2500 | 2500 | 12.3 / 1.25 | 11 mm | 1500 |
| 2501-3500 | 3500 | 17.2 / 1.75 | 13 mm | 2000 |
Click here to view enlarged version

Arrangement of Chains

Safety chains must be arranged to that:
The chains are permanently attached to the trailer
The chains are crossed to support the drawbar and prevent it from dropping to the ground in the event of a coupling failure or disconnection
The points of attachment to both the towing vehicle and the trailer must be near as practicable to the coupling and arrange so as maintain direction of the trailer in the event of coupling failure or disconnection.
Ensure that the attachment fittings do not foul on the rear of the towing vehicle or trailre drawbar under any possible operating conditions.
The chains are as short as possible, but long enough to permit proper turning of the vehicle
Source: Reproduced from QLD Transport Information Bulletin