* Supersedes the B-TEC 200Ah Lithium Battery

Available in 12v 200Ah capacity, the Enerdrive B-TEC G2 lithium battery is designed and intended for use in deep cycle applications where a single battery is required that meets the amp hour capacity.
Smart Phone Monitoring System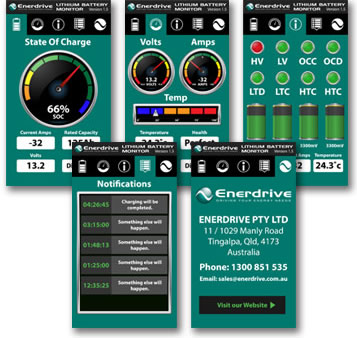 The Enerdrive B-TEC G2 battery incorporates wireless Battery Monitoring Technology. By downloading the
Android™
or
Apple®
app to your smartphone or tablet device, you can monitor the following information:
Battery Capacity
Battery Voltage
Battery Current (Amps)
Battery State of Charge (SOC)
Battery State of Health (SOH)
Battery Status
Individual Cell Voltage
Battery Temperature
Battery Cycles
Battery Alarms
Battery Event Information
Battery Management System
The battery is also equipped with an internal Battery Management System that can monitor and optimise each Prismatic cell within the battery during normal operation. It will protect the battery pack from over charge, over discharge, over temperature & short circuit. The BMS helps to ensure safe and accurate operation of the battery.
Size & Weight Savings
Lithium v AGM Capacities:

100Ah Lithium = 160Ah AGM
125Ah Lithium = 200Ah AGM
200Ah G2 Lithium = 320Ah AGM
(Based on standard depth of discharge for both Lithium (80%) and AGM (50%).
(Based on standard depth of discharge for both Lithium (80%) and AGM (50%).

The Enerdrive B-TEC G2 battery provides 60% more usable power than its equivalent lead acid cousin and being nearly 50% lighter and 30% smaller makes for a superior alternative.
The Enerdrive B-TEC G2 battery is perfect for camper trailers, 4WD's (AUX battery), caravans, small water craft, low power communication sites or any other application that requires the use of a single deep cycle battery that meets the amp hour capacity.
The New Generation 2 B-TEC

So, How does the New Enerdrive Generation 2 (G2) B-TEC 200Ah Lithium Battery measure up against it original predecessor? Let's have a look.
Note: Left/right table scroll in mobile view
| Dimension | Original | Generation 2 |
| --- | --- | --- |
| Length | 485mm | 505mm |
| Width | 170mm | 172.5mm |
| Height | 245mm | 265mm |

The increase in height allows for full 360° connection of the battery cables the make installation easier and more flexible. Also included for free is a metal battery tray and hold down strap to complete the installation process.
The G2 now incorporates a "Built-In Reset Button" making re-starting a flat battery a breeze. No longer do you need to apply a voltage to the battery terminals to wake up the battery. Press the button and within seconds, the battery will come back to life ready to accept a charge source to rejuvenate the battery.
The new G2 also includes a RS485 communications port located on the top of the battery. This port allows for integration onto other CanBus systems for data monitoring and recording.
The New Enerdrive Generation 2 (G2) B-TEC 200Ah Lithium Battery now comes with a 3 year full replacement warranty. Additionally, we have also included a further 2 year Pro-Rata warranty to giving you peace of mind knowing that Enerdrive have got you covered.
With over 7 years of researching, designing and testing lithium batteries and the associated charging systems, Enerdrive are at the forefront of lithium battery systems in Australia. Enerdrive are the only Australian company that can supply a fully integrated self-branded energy system to suit your setup.
With over 3000 complete systems in operation Australia wide, Enerdrive is regarded as the leader in the field of lithium batteries and energy systems for Mobile, Marine and Remote applications.
Please Note; The G2 battery is capable to be paralleled to a second G2 battery. For maximum performance and lifespan of your G2 battery, no more than 2 batteries should be connected together to increase your overall capacity. Overall loads when paralleled should not exceed the current limits of a single batteries BMS.
If you are requiring a battery system larger than the Enerdrive B-TEC G2 battery, please look at the Enerdrive Pro Series Power Pack Systems which can offer multiple parallel and series connections with Active Cell Balancing Protection across the entire pack.
(ENE-EPL200BT12VG2)
General:
Nominal Voltage: 12.8V
Nominal Capacity: 200Ah
Cycle Life (DOD – 80% under controlled conditions): ≥ 2000 Cycles
Standard Charge Specification (Lithium profile charger required):
Battery Charge Temperature: 0 ̴ 45°C
Normal Charge Voltage CV/CC*: 14.40 ̴ 14.60V
Standby (Float) Voltage: 13.50 ̴ 13.80V
Maximum Charge Current: 150A @ 25°C for 30mins
Recommended Charge Current for Maximum Life: ≤60A
Standard Discharge Specification:
Battery Discharge Temperature: -20 ̴ 60°C
Battery Output Voltage Range: 11.00 ̴ 14.60V
Maximum Discharge Current: 200A @ 25°C ±5°C for 30mins
Pulse Discharge Current: 450A for 1.0s
Discharge Cut-off Voltage: ≤11.20V
Circuit Protection:
The battery is supplied with a LiFePO4 Battery Management System BMS that can monitor and optimize each single prismatic cell during charge & discharge, to protect the battery pack from overcharge, over discharge & short circuit. Overall, the BMS helps to ensure safe and accurate operation of the battery.
Over-Charge Protection
Over-charge Protection Per Cell: 3.90V ± 0.03V
Over-charge Release Per Cell: 3.60V ± 0.05V
Over-charge Release Method: Discharge below release voltage
Over-Discharge Protection:

Over-discharge Protection Per Cell: 2.80V ± 0.05V
Over-discharge Release Per Cell:

3.20V ± 0.05V
Over-discharge Release Method: Apply Charge/Voltage ≥12.8V
Over Current Protection:

Discharge Over Current: 220A for 30s – 450A for 1s

Protection Reset Time:

5s Auto Release
Over Current Release Method: Disconnect Load
Over Temperature Protection:

Battery Discharge Over Temperature:


Protection to 65°C ± 5°C
Release at 50°C ± 5°C
Battery Charge Over Temperature:


Protection to 55°C ± 5°C
Release at 45°C ± 5°C
Short Circuit Protection:

Auto release after 5s
Storage Information:

Temperature & Humidity Range:


≤ 30 days -20°C ̴ 35°C, 45 ̴ 75% RH
≥ 30 days -10°C ̴ 30°C, 45 ̴ 75% RH
Self-discharge Rate:

≤ 3% Per Month
Be The First To Review This Product!
Help other Caravan Parts users shop smarter by writing reviews for products you have purchased.