Setting up your Flat Out Drink Water Hose
Get the best out of your Flat Out drink water hose by having it set up correctly.
Connection to your caravan, camper or motorhome
Our hoses work best with a downward connection, otherwise you may experience flow restriction. If you have a horizontal or upward BSP inlet, we advise additional purchase of an elbow adaptor.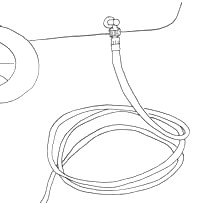 Excess length of hose between tap and van
Attach the hose to the tap, and unspool full length of hose towards your van
Make a coil (about 0.7m diameter) under your water inlet with the excess length
Connect to van water inlet
Turn on tap to add pressure
gently release any kinks that may initially form when pressurising

Winding and Unwinding your hose
Please see instructions here >>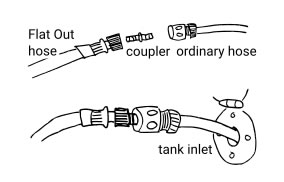 Filling non-pressurised water tanks using a short filler hose
Cut off approximately 30 cm of solid drink water hose and fit a standard snap fitting (or use our product P14)
Use a coupler (P7) to join the Flat Out hose and the ordinary hose
Insert ordinary hose in the tank opening; you are now ready to turn on the water supply tap and quickly fill up your water tank with ease