SOG Toilet Vent Kit Guide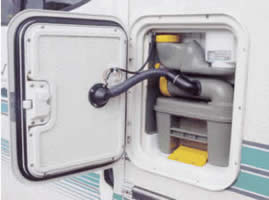 Check out our complete range of SOG Kits and accessories here >>
The SOG Toilet Ventilation System is an ecological solution for motorhome and caravan toilets. It is 100% chemical free and 100% odorless.
Surely the saving on the use of chemicals must be a bonus when you think what these chemicals do to our environment. You don't have to find a dump point and this in itself means more freedom when you are travelling around Australia.
There are five kits for cassette type toilets. Made with the traditional German engineering and know-how, this solution to a smelly problem will be an investment in quality of lifestyle.
Additives are no longer necessary and optimal decomposition is guaranteed by the increased flow of oxygen
The fast and powerful ventilator immediately removes odours by suction
No more smells in the vehicle
No further problems with the pressure of gases caused by decomposition
The ventilator is switched on as soon as the blade valve starts to open and is switched off again when the blade valve is closed.
The fact that no smells can leave the waste holding tank is brought about by: as soon as the ventilator is switched on there is a suction effect in the waste holding tank which draws in fresh air through the blade valve. This downflow acts as a seal and prevents the gases and smells from rising.
The fresh air that is drawn in removes the new odours in the toilet bowl when it is being used.
The decomposition process for sewerage and toilet paper is accelerated by the increased flow of oxygen so that no additional chemicals are required.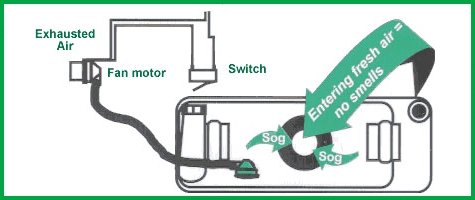 No special toilet paper is required, in fact ordinary toilet paper is recommended for use with this system.
The exhaust ventilator with its motor has been specially designed for sanitary systems. The power consumption is very low at 0.43 watts.
All SOG units can be retrofitted to existing Thetford or Dometic toilet systems at home, no auto electrician necessary!
All SOG units are available in side-venting or floor venting (SOG II) and can be ordered in as roof venting units also.
Which SOG is right for me?